CNN
—

Israeli tanks have surrounded a Gaza hospital, its director told CNN, as the territory's largest health facility reportedly came under "bombardment," reinforcing fears Friday that Israel's military campaign could put more people at risk patients and medical staff in Gaza.
Mustafa al-Kahlout, who runs Al Nasr Hospital and Al Rantisi Pediatric Hospital in northern Gaza, told CNN they were surrounded and asked the Red Cross to help carry out a evacuation. "We are completely surrounded, there are tanks outside the hospital and we cannot leave," al-Kahlout said.
The hospital complex is close to the Sheikh Radwan neighborhood and Al Shati camp, where ground fighting was separately reported by the Israel Defense Forces (IDF) and Hamas. "We have no electricity, no oxygen for patients, we have no medicine or water," al-Kahlout said. "We do not know our fate."
His call comes after strikes were reported near several other hospitals in northern Gaza, including al-Shifa Hospital in Gaza City, the territory's largest medical facility.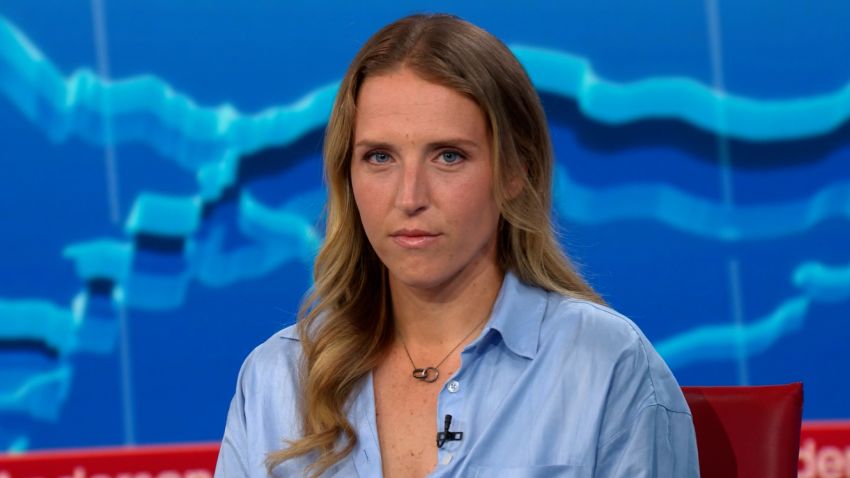 Why an American nurse who left Gaza says she would return
A spokesperson for the World Health Organization (WHO) said on Friday that al-Shifa was "under fire", adding that 20 hospitals in the Gaza Strip were "out of order".
Asked Friday about a possible Israeli airstrike on al-Shifa hospital, WHO spokesperson Margaret Harris told a press briefing: "I don't have details on al-Shifa hospital. -Shifa but we know they are bombed. »
The Israeli army said Friday evening that a misfired projectile launched from Gaza was responsible for the attack on al-Shifa hospital.
"Earlier today, the IDF received reports of an attack on Shifa Hospital in Gaza City. The Hamas-run media office in the Gaza Strip immediately claimed that this was an IDF-led strike," IDF spokesman Lt. Col. Richard Hecht said in a statement. sent to CNN.
The Israeli military said a review of its operational systems indicated that "a misfired projectile launched by terrorist organizations inside the Gaza Strip hit Shifa Hospital."
Hecht went on to say that the projectile was aimed at "IDF troops operating in the surrounding area."
Several videos posted on social media showed people injured in what was described as al-Shifa's outpatient clinic.
It's unclear what exactly hit the hospital, but videos show injured people lying on the floor of the outdoor clinic. Witnesses in the videos say these were strikes on the area. CNN was unable to verify that these were strikes.
In a statement on Facebook, Al Awda Hospital in northern Gaza said that due to the "targeting of the surrounding areas of Al Awda Hospital…and the Indonesian Hospital" by Israeli forces, 10 of its employees were injured and infrastructure was affected. and nine vehicles were affected.
Among them, "two ambulances which were completely damaged", indicates the hospital press release.
Meanwhile, at Al-Quds Hospital in Gaza City, an imminent closure could lead to the death of patients, including babies, the Palestinian Red Crescent Society (PRCS) warned in a statement Saturday morning local time .
"Al-Quds Hospital is at risk of being closed in the next three hours due to the exhaustion of fuel reserves and the non-arrival of aid," PRCS said. "500 patients and injured people will be deprived of medical care. Those in intensive care and babies in incubators will lose their lives.
On Wednesday, PRCS announced it was scaling back most of its operations due to fuel shortages to ensure the provision of minimal services.
Human rights groups say Israel's massive bombing of civilian areas, evacuation orders and blockade of territory constitute war crimes.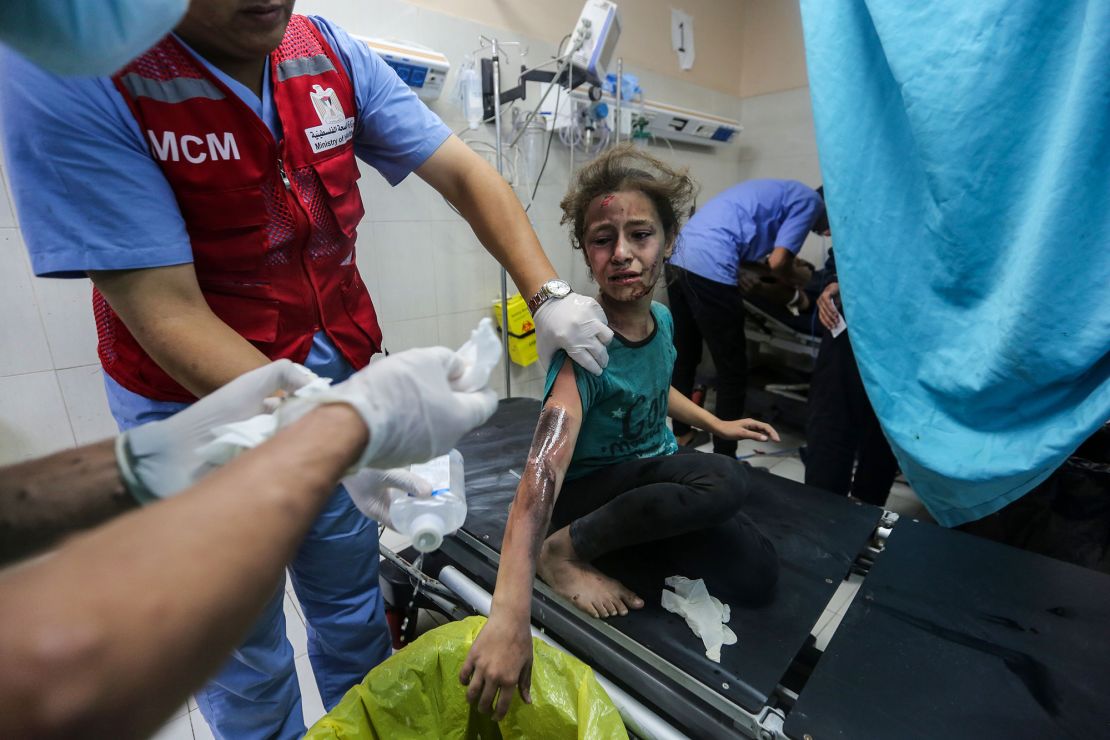 The Israeli military has not commented on the incidents but has repeatedly called on civilians to move south of Wadi Gaza, a waterway that runs through the center of the Gaza Strip, as it intensifies its attacks on the Gaza City and the north of the territory.
The Israeli military said Hamas was embedding itself in civilian infrastructure and that it would strike Hamas "wherever necessary." Earlier this month, the IDF released aerial images that it said showed rocket launchers and an opening to a tunnel near two Gaza hospitals. CNN cannot verify these claims. The Palestinian Authority's Ramallah-based health ministry and Hamas-controlled government media have rejected allegations that hospitals are being used as shields for attacks.
Israel began its offensive inside Gaza, following the Hamas attacks on October 7. While Israel previously said 1,400 people were killed in the attacks, officials said Friday they now estimate the total number of people killed to be around 1,200.
The death toll includes foreign workers and other foreign nationals, Foreign Ministry spokesperson Lior Haiat confirmed.
The current estimate of 1,200 is not a definitive figure, Haiat stressed, because some bodies have not yet been identified.
The Israeli military has since intensified its campaign in northern Gaza in recent days, effectively cutting the territory in two, with its fiercest ground operations and aerial bombardments apparently concentrated in the north.
The offensive has so far killed more than 11,000 Palestinians, according to the Palestinian Health Ministry in Ramallah, citing sources in Hamas-controlled territory. Israeli strikes killed at least 4,506 children and 3,027 women, according to the ministry, which said more than 27,000 others were injured. CNN cannot independently verify these figures.
But the impact on health facilities has raised concerns about the dire humanitarian situation for those remaining in northern Gaza. The majority of hospitals in Gaza – 18 out of 35 – have stopped functioning, according to the Palestinian Ministry of Health in Ramallah, which draws its figures from territory controlled by Hamas, said Thursday.
Additionally, 71% of all primary care facilities closed due to damage or lack of fuel, the ministry said. Its statement said hospitals that remain open are limited in what they can provide and are gradually closing.
Meanwhile, Volker Türk, the United Nations' top human rights official, on Friday cast doubt on Israel's unilateral establishment of "safe zones" in Gaza, saying no place in the territory was safe for civilians.
Streams of Palestinians – including women, children and the elderly – are heading south in a growing exodus along daily evacuation corridors announced by the Israeli army.
US Secretary of State Antony Blinken said on Friday that "far too many Palestinians have been killed, far too many have suffered in recent weeks" – one of his most direct condemnations of the civilian toll caused by Israel's Gaza offensive .
This story has been updated with additional developments.