ANNAPOLIS, MD
– Governor Wes Moore and Lieutenant Governor Aruna Miller honored Maryland's veterans at numerous Veterans Day events this week.
During a Veterans Day breakfast Thursday at the Government House, Gov. Moore signed two executive orders: one establishing a commission to establish a memorial to veterans of the Global War on Terrorism and directing state agencies to take action to reduce veteran suicides . The governor was joined by Lt. Governor Miller, Department of Veterans Affairs Secretary Anthony Woods, Maryland Secretary of State Susan Lee, Senator Michael Jackson, Delegate Nick Allen, Anne Arundel County Councilman Pete Smith, as well as veteran and military family advocates and leaders, and military leaders from military installations in Maryland.
"Today it's about one word: memory. We remember the service of those who raised their hands to defend our nation – and the sacrifices of their loved ones." said Governor Moore. "We remember our commitment to all of our military families. These two executive orders are linked by a spirit of remembrance. The first order is about remembering our troops and the second order is about remembering our obligation to those who have served."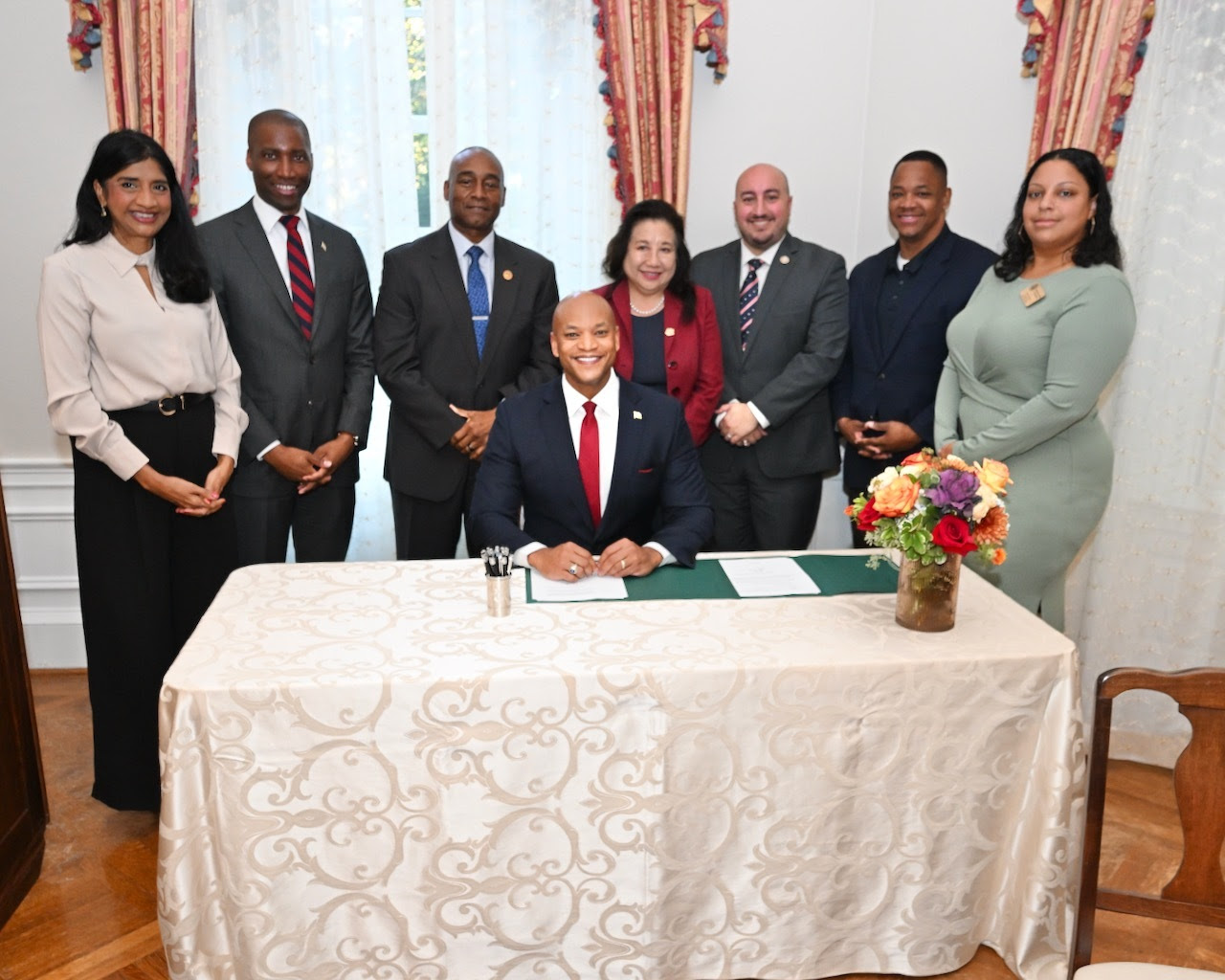 On Friday, Governor Moore joined Baltimore Mayor Brandon Scott in the Baltimore City Veterans Day Parade, an annual celebration honoring veterans and fallen American service members. Maj. Gen. Janeen L. Birckhead, adjutant general of the Maryland National Guard, served as the parade's grand marshal.
"I want to salute our veterans. I am proud to be one of you. "Thank you for your service" should be the start of a conversation, not the end." said Governor Moore. "If you look at what we've done in the first 10 months, we've made sure to thank our service members in every way possible. Let's continue to work to ensure that when we say "thank you for your service," we mean it."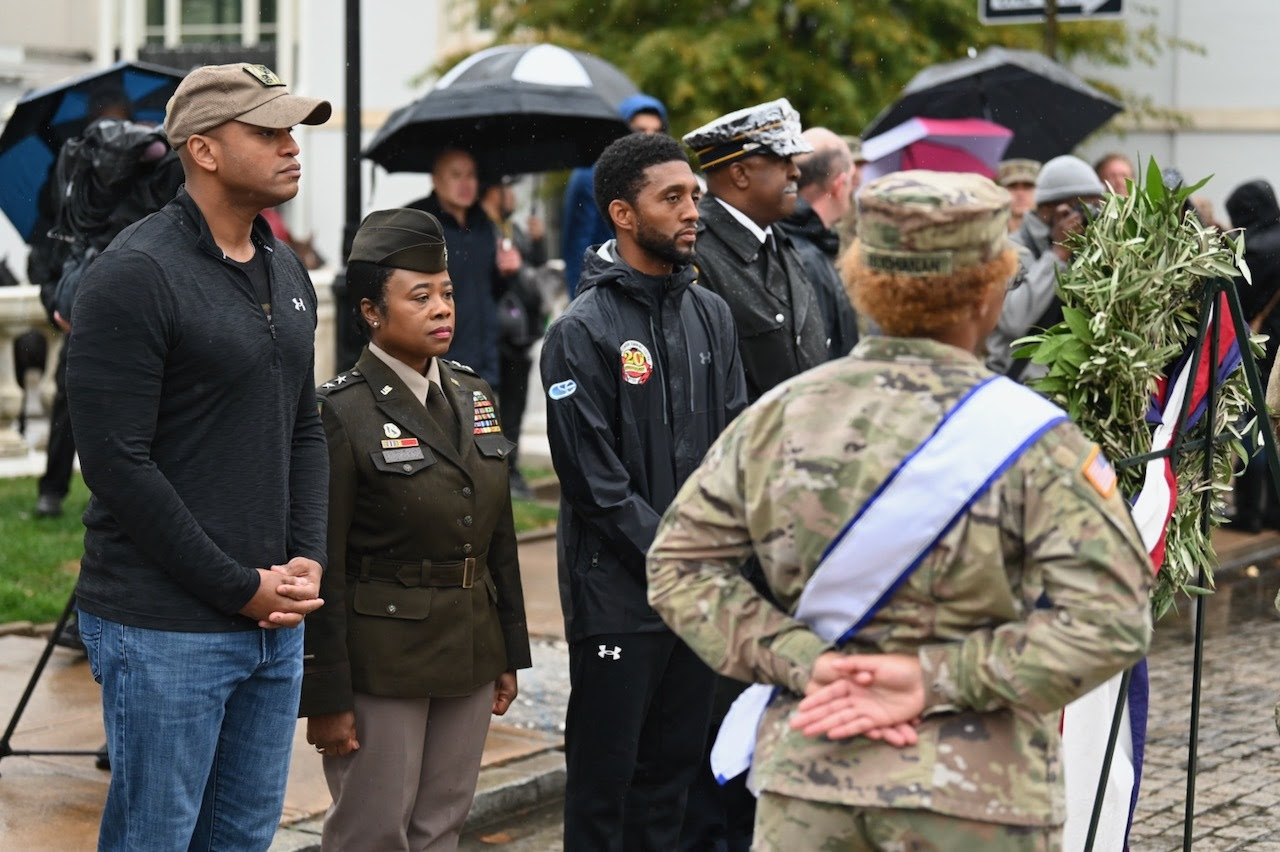 Gov. Moore also attended Vehicles for Change's third annual vehicle showcase in honor of Veterans Day on Friday. As an EARN Maryland grantee, Vehicles for Change provides both job training and vehicle donations to open doors for recipients to access better jobs, medical care and educational opportunities. Together with Maryland Department of Veterans Affairs Secretary Anthony Woods and Maryland Department of Labor Secretary Portia Wu, the organization awarded ten vehicles to ten veterans.
Today, Governor Moore and Lieutenant Governor Miller were joined by U.S. Senator Chris Van Hollen, Comptroller Brooke Lierman and Maryland Department of Veterans Affairs Secretary Anthony Woods to celebrate the service and commitment of veterans and military families from across Maryland during the holiday meals program to honor the military. Hosted by Operation Homefront, the event celebrated 150 military families living and serving in Maryland at a food distribution event at the B&O Railroad Museum in Baltimore.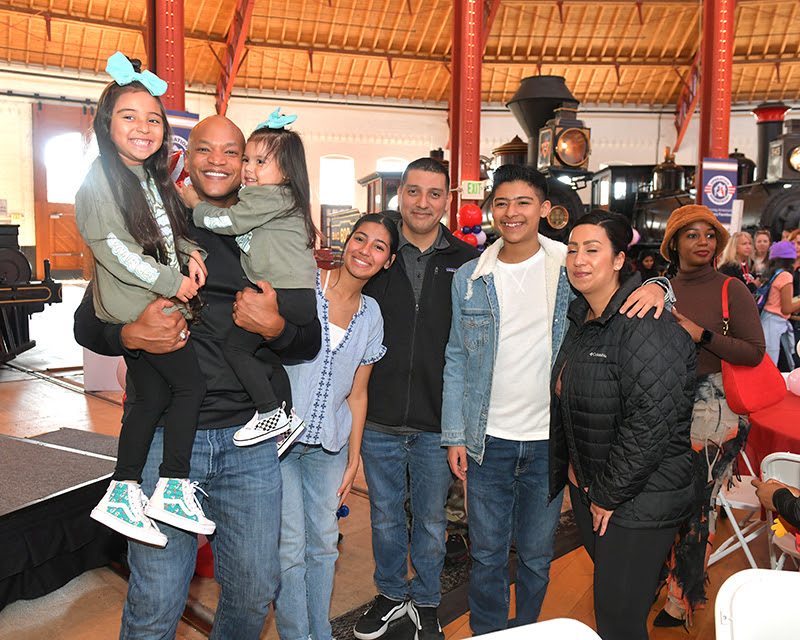 During the event, Governor Moore announced the launch of Maryland Joins Forces, an initiative designed to mobilize partners in the public, private and nonprofit sectors to address issues affecting the military-connected community. The initiative will focus on five key themes: employment; food and housing insecurity; Education; health and wellness; and volunteer service through a combination of legislative advocacy, executive action and strategic communications. The Vice Governor takes the chair.
"Our veterans, service members, military families, caregivers and survivors do their best for this nation." said Governor Moore. "Maryland not only owes a debt to these brave heroes, but healthy veterans and military families make for a healthy state."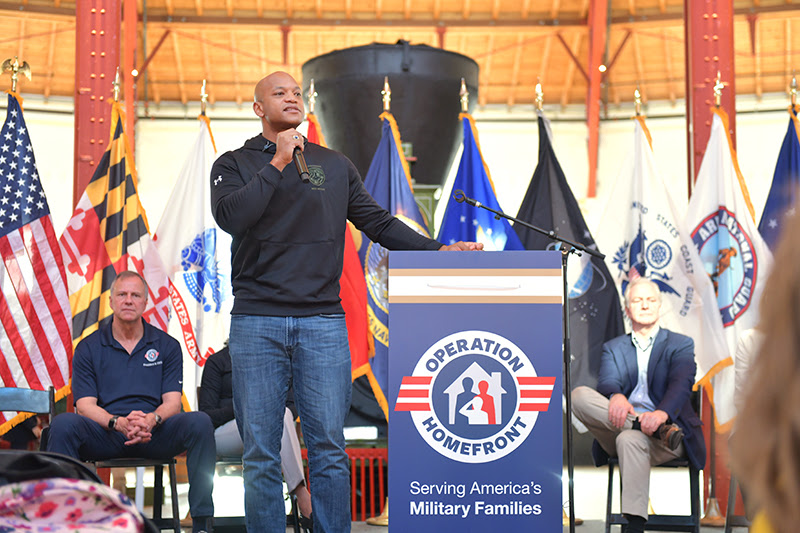 "It is an honor to serve as chairman of the Maryland Joins Forces and support our service members and military families." said Lieutenant Governor Aruna Miller. "Working closely with the Maryland Department of Veterans Affairs and our allies across the state, we will create opportunities and improve the quality of life in our military-connected communities."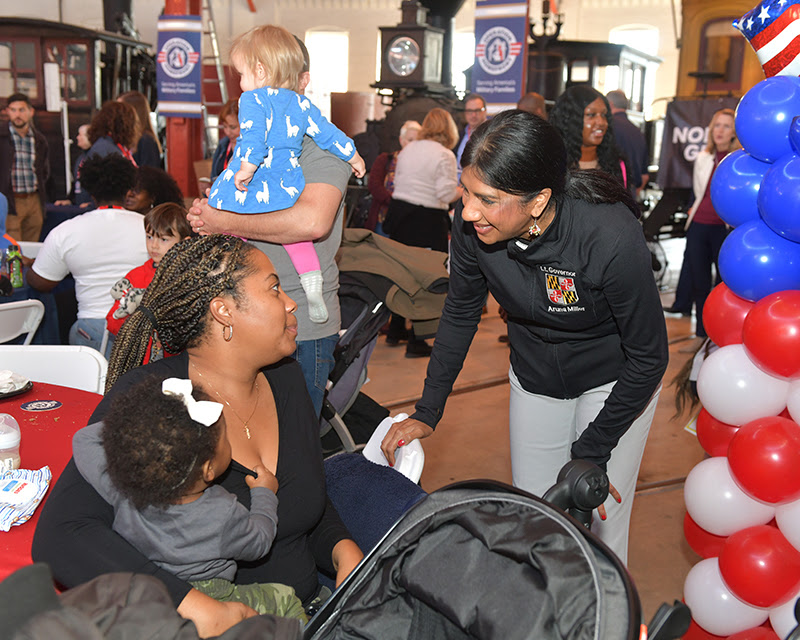 "We want to do everything we can to ensure that our heroes and their talents stay here at home after their military service ends," said Anthony Woods, secretary of the Maryland Department of Veterans Affairs. "Maryland Joins Forces will go a long way toward helping us accomplish just that."
"Military families need to feel like their community understands their challenges and is taking steps to support them. This initiative achieves both," said Kathy Roth-Douquet, executive director of Blue Star Families. "Governor Wes Moore's creation of Maryland Joins Forces is truly groundbreaking and exactly what military-connected families need. Blue Star Families launched the Do Your Part campaign to urge all Americans to better support military families – and we are pleased to see the state of Maryland get involved in such a meaningful way."
"We applaud every effort Governor Moore makes for Maryland through his Maryland Joins Forces campaign to help make our military families stronger, more resilient and better secure," said Operation Homefront President and Chief Executive Officer Brigadier General (ret.) John I. Pray, Jr. "We believe that strong military families strengthen their communities, and those strong communities, in turn, make their state and America stronger."
"Team Red, White & Blue provides a health and wellness community for veterans, many of whom need this type of support more than ever. It is inspiring to see Maryland embrace visionary leadership here, and Team RWB is honored to be recognized by Governor Moore and Secretary Woods as an organization they trust to support Maryland veterans on their healthcare journey to support." said Team RWB Executive Director Mike Erwin. "All of us at Team RWB are thrilled to be a part of this initiative that will enrich the lives of Maryland's veterans, service members and military families."