Medical professionals at Cook Children's Health Care System held a news conference Friday morning to detail high volumes in its emergency rooms and urgent care centers.
The increase has hospital leaders urging parents to only seek out emergency and urgent care centers "unless you really need us."
"As of Wednesday, across all of our urgent care centers, we had 752 visits," said Dr. Amy Richardson, assistant medical director of Cook Children's Urgent Care Centers. "This is higher than historical volumes in past years and is certainly enough capacity to deplete our resources and overload them."
The result, she said, is longer wait times at the hospital system's seven urgent care clinics in Fort Worth and Prosper.
The hospital system's emergency department is also reporting a worrying increase in the number of patients.
"From an emergency department perspective, we are overwhelmed with patients," said Dr. Taylor Louden, medical director of Cook Children's emergency department. "Yesterday we saw 483 patients. We treated approximately 500 patients, which as you can imagine is an extreme number. This represents a patient who presents to our emergency department approximately every three minutes.
According to him, this influx makes it difficult to care for the most seriously ill patients who need advanced care.
Patients like six-month-old Adalyn Brady.
"Less than 15 minutes after we arrived, she was in respiratory failure," said her mother Alexa Syren. "She had to be intubated. »
The family has been hospitalized for almost three weeks.
Baby Addy contracted respiratory syncytial virus, or RSV.
This common illness causes cold-like symptoms and can be serious for infants and the elderly.
Syren and her husband John Brady say the hospital is full of families.
"I know at one point the nurse said they only had two beds open," Syren said. "It's heartbreaking not only to be here with your child, but for all the families going through (the same situation)."
Dr. Louden says the number of RSV cases is about the same as last year, but there is something concerning.
"This year, unfortunately, RSV seems to hit harder," he said. "Our patients are sicker. We are occupying our intensive care beds earlier than last year during this time.
Cook Children's also cares for children battling COVID-19 and the flu, which is starting to ramp up for the season.
"We anticipate this problem will get worse as we move through the winter months rather than getting better," Richardson warned.
Cook Children leaders urge parents not to use emergency rooms or urgent care clinics unless necessary, or to seek out primary care doctors virtually or in person, or health clinics community for those who are uninsured or uninsured.
However, they emphasize that no one is turned away in the emergency room or urgent care, but that they expect wait times of up to ten hours.
"Please come to us, but please approach us understanding that there are times when we need to prioritize care and take care of these seriously ill children," said Richardson. "If parents find themselves waiting, we would just ask them to understand that we are a little overwhelmed with our resources right now."
Non-emergency patients may have to wait more than 10 hours to be treated, according to Louden.
"We are doing our best to care for patients as quickly as possible, but we just ask that you limit your use of the emergency department during this time unless you truly need us," he said. he declares. "(Patients come in with) a rash. We have ingrown toenails, we have a child who has been coughing and has congestion for a day and some mild fevers.
The rise in hospital visits is only expected to get worse during the holidays.
Dr. Richardson recommends using COVID-style hygiene practices: washing your hands frequently and thoroughly, sneezing and coughing into your arm, keeping your child home if they are sick, and considering wearing a face mask.
Another challenge facing health care professionals is the dwindling supply of the RSV vaccine, recommended for babies six months and younger.
"The supply is a little limited, that was a problem this season," said pediatrician Bianka Soria-Olmos of Cook Children's Pediatrics in Haslet. "But contact your pediatrician because I know some practices still offer it."
Baby Addy is expected to stay in the hospital for two more weeks, according to her parents.
Syren says it's often difficult for parents to determine whether they should go to the emergency room late at night or try to treat their symptoms at home.
"Trust your instincts," she says. "Parents know your babies best. »
She says when they first noticed signs that their daughter was having trouble breathing, they consulted their primary care doctor and virtual visits, then rushed her to a hospital near their home.
That hospital ended up sending the baby home.
"If you get sent home and you feel like something is seriously wrong, don't stop trying," Syren said.
Two days later, Dad woke up to find Addy unconscious.
They called 911 and transported the baby to Cook Children's where she has been for 21 days.
Syren praises the nurses and doctors at Cook Children's for the special care they provide to their baby and says they couldn't do it without the support of family and friends.
The family is active in the popular cornhole lawn game community, particularly with the South Dallas Cornhole Region group.
"John and Alexa have been part of our Cornhole family for a long time," the group told NBC 5. "The Cornhole community is ready to step up to help if any of our members are in need."
The South Dallas Cornhole Region group is hosting a fundraiser to help the family.
The Addy Brady Family Benefit will be held on Sunday, November 19 at 4 p.m. at After Church located at 1511 FM-664 in Waxahachie.
The fundraiser will include silent auctions and raffles.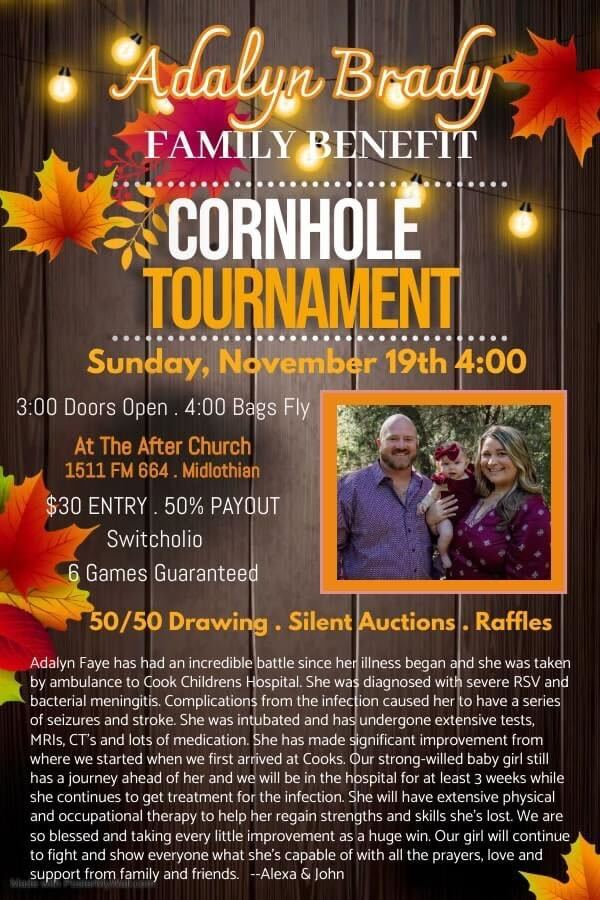 For more information, click here.
The family can also be contacted by email at [email protected] or 469-337-4170.
"We just want lots of prayers for our sweet girl," Syren said through tears. "And we want to raise awareness so no other parent has to go through this." »
Baby Addy's mom says she's especially grateful to see signs of progress or "little victories" in her little girl, no matter how small.
"She grabbed one of his toys," she said. "In a way, we're starting from the beginning again."