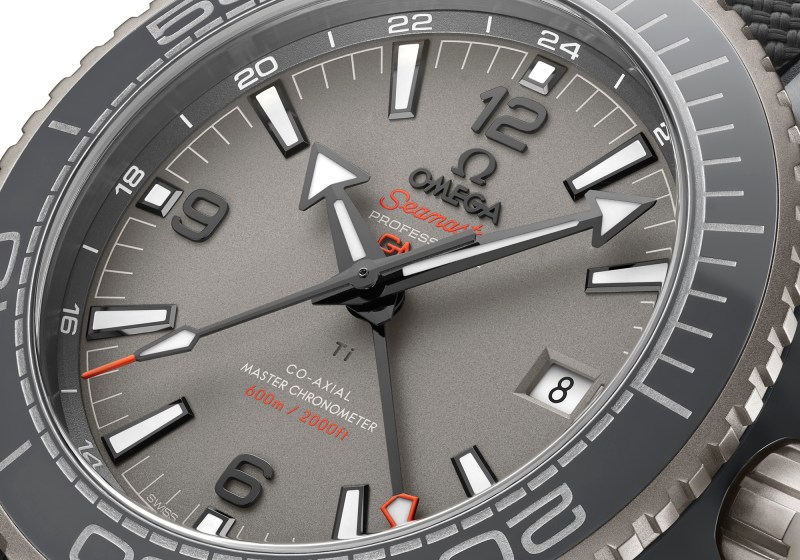 In the world of men's watches, the Omega name resonates like a symphony of precision, elegance and heritage. But what happens when this iconic Swiss watchmaker decides to push the boundaries of watchmaking with a bold twist? Indeed, Omega has just launched the new Seamaster Planet Ocean watch in silicon nitride. Get ready, gentlemen, because this watch isn't just another accessory to add to your collection.
Before we dive into the details of this watch, let's get one thing straight: this is not your average "run-of-the-mill" watch. Omega made a bold decision to incorporate silicon nitride ceramic into this watch, setting a new standard. Silicon nitride, twice as light as traditional zircon ceramic, takes center stage, proving that Omega watches are thinking outside the box and attempting something a little unconventional.
A bold style statement
At first glance, the Omega Seamaster Planet Ocean exudes sophistication and boldness, paying homage to Omega's maritime heritage. With a 45.5mm gray ceramic case and sandblasted grade 5 titanium bezel, it's clear that this watch is built for the explorations you dreamed of as a kid. The helium escape valve, essential for deep-sea explorers, also benefits from the titanium treatment, without forgetting the silicon nitride inner ring of the bezel.
The dial is a work of art in itself; constructed from sandblasted grade 5 titanium, it is distinguished by its orange accents and its white Super-LumiNova hands and indexes. Practicality meets style with a date window at 3 o'clock, ensuring you never lose track of time when diving into the deep end.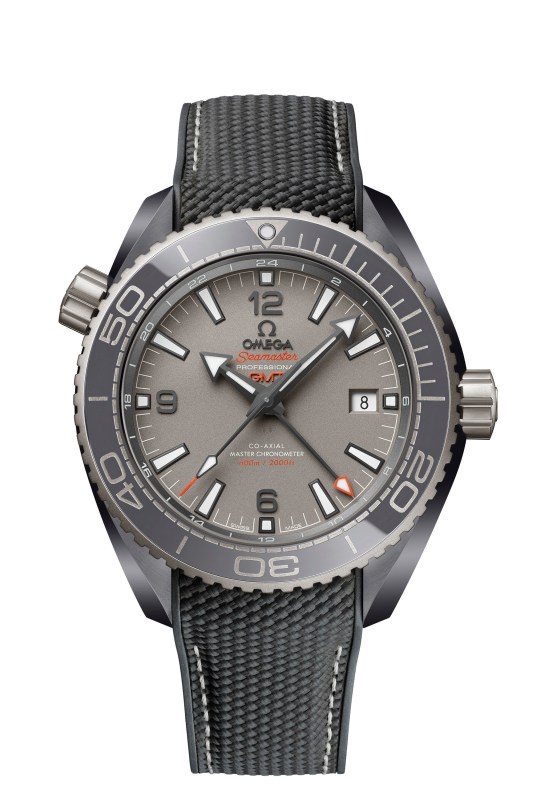 Ready for adventure
Now let's talk about the bracelet: a black and gray structured elastic that exudes rugged sophistication. Secured by a Grade 5 titanium buckle, it promises durability and comfort. This isn't your typical dress watch, and Omega knows it.
Under the hood, this Omega Seamaster watch is powered by the Co-Axial Master Chronometer 8906 Titanium caliber. This move is not only a reliable tool; it's an ultra-lightweight masterpiece perfect for the modern man. To keep the movement in check, Omega added a transparent NAIAD LOCK caseback with a double-sided anti-reflective sapphire crystal and chrome nitride markings. This detail ensures that not only will you look stylish, but you will also be able to admire the complex mechanics that make this watch work.
A masterpiece of functionality
It's time to get to the heart of the matter with the main characteristics of this extraordinary timepiece. Firstly, it is anti-magnetic, a feature that ensures your watch is not affected by magnetic forces that can disrupt timekeeping. As if that wasn't enough, it's also a certified stopwatch. The date function is a no-brainer, but it's the GMT and world timer capabilities that set this watch apart.
If you're a globe-trotting gentleman who values ​​his time, the Seamaster Planet Ocean is your perfect companion for sipping cocktails with you in first class. The helium valve is a must-have for any diver, and this watch does not disappoint. It is water resistant up to 600 meters (2,000 feet), making it a true aquatic beast.
A leap into unknown territory
What really sets this timepiece apart is its Master Chronometer certification. This prestigious title, awarded by the Swiss Federal Institute of Metrology (METAS), is only awarded to watches that pass a rigorous set of tests for precision, magnetic resistance and overall performance. The use of silicon nitride on such a scale in a watch is an industry first. The result is a watch that not only looks phenomenal, but challenges the limits of conventional materials.
With a price tag of $22,200, it's not for the faint of heart, but it's certainly not as high as some of the comparable watches on the market. And, despite all the bells and whistles included, it's most likely a good deal.
Editors' Recommendations