London's Metropolitan Police had refused ministerial requests to block the event, saying it had no indication there would be serious violence, which would strain relations with the government.
The scuffles between police and far-right counter-protesters took place Saturday near the Cenotaph war memorial, where some counter-protesters chanted: "We want our country back."
Bottles were then thrown at police by members of far-right groups in another incident in Chinatown, about a mile north of the war memorial, police said.
Arab, Muslim leaders criticize Israel, seek quick end to 'barbaric' war
Police said in a statement Saturday that they had arrested 126 people so far, most of them right-wing protesters who were part of a group of several hundred people that police said included soccer hooligans.
"The extreme violence by right-wing protesters towards police today was extraordinary and deeply concerning," Assistant Commissioner Matt Twist said, adding that a knife and brass knuckles were found during the searches.
"They arrived early, claiming they were there to protect the monuments, but some were already drunk, aggressive and clearly looking for a confrontation. Abuse was directed at officers protecting the Cenotaph, including chants of "You're not English anymore". »
Although the much larger pro-Palestinian rally was not marked by physical violence, the senior officer said small groups broke off from the main march and about 150 people wore masks had fired fireworks that hit officers in the face, leading to arrests.
Investigations into a small number of hate crimes and support for prohibited offenses by organizations are also underway, Twist said.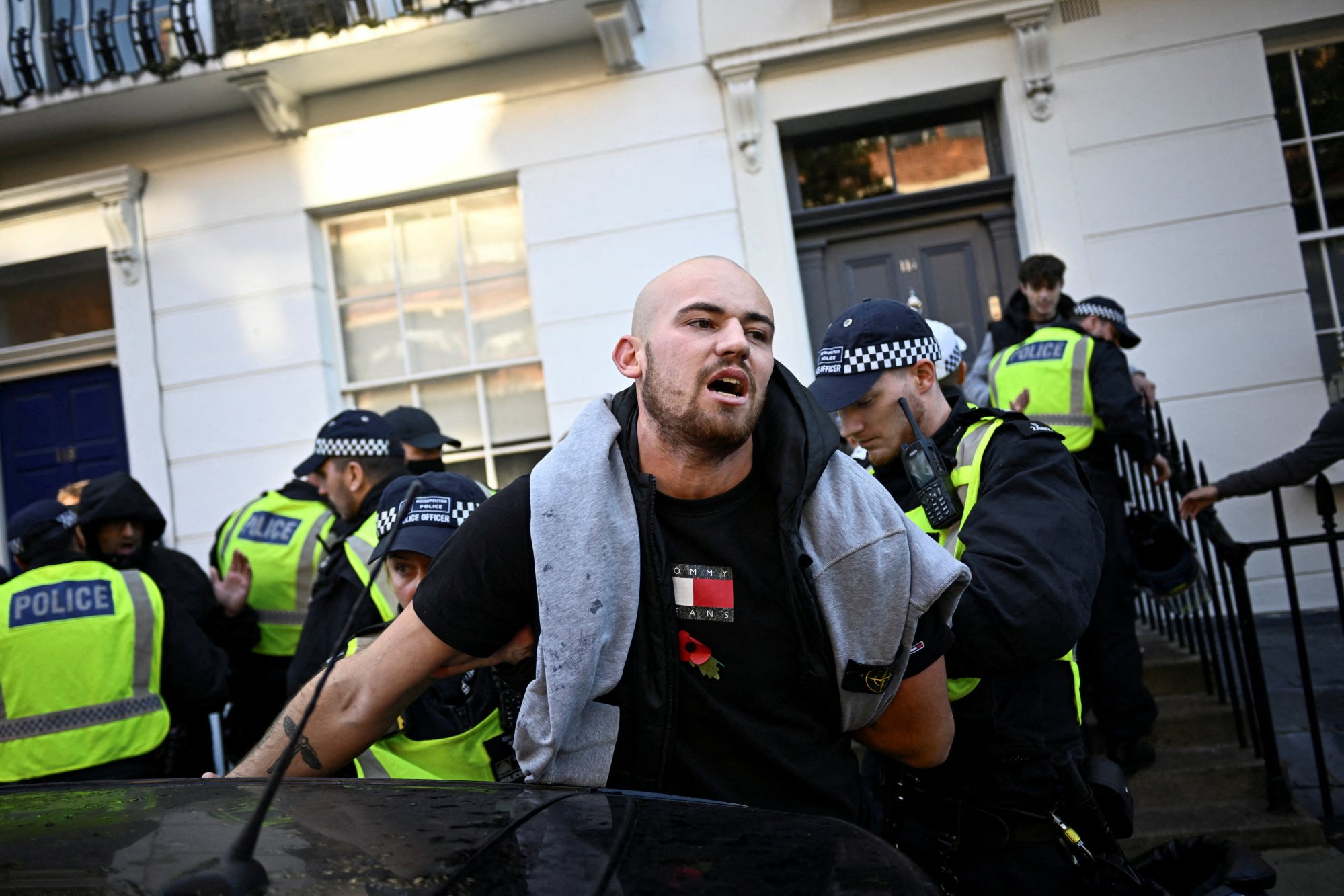 Sunak called on police to take a hard line.
"All criminality must be suppressed with the full force of the law," he said in a statement on Saturday evening. "That's what I told the Met Police Commissioner on Wednesday, that's what they're responsible for and that's what I expect."
Clashes between police and right-wing protesters continued throughout the day, with officers in riot gear using batons to try to contain bottle-throwing demonstrators.
London Mayor Sadiq Khan and Scottish First Minister Humza Yousaf said Braverman had stoked tensions and emboldened the far right by accusing police of favoring "pro-Palestinian crowds" before the event.
Police said more than 300,000 people joined the pro-Palestinian rally, while organizers estimate the figure at 800,000.
Some protesters chanted "From the river to the sea, Palestine will be free," a rallying cry seen by many Jews as anti-Semitic and a call for the eradication of Israel.
Others carried banners reading "Free Palestine," "Stop the massacre" and "Stop bombing Gaza."
Since the Hamas attack in southern Israel on October 7, Western governments, including Britain, and many citizens have shown strong support and sympathy for Israel. But the Israeli military response has also sparked anger, with weekly protests in London demanding a ceasefire.
"Peace only on paper": Gaza war exacerbates Arab world grievances against Israel
Assistant Commissioner Laurence Taylor, who led the police operation, had said that counter-protesters were likely to include football hooligans, and that police would be "likely" to have to use force at some point against " pockets of confrontation."
Around 1,850 police officers, some from other areas, were mobilized to keep the peace, including 1,375 on Sunday, when a national service of remembrance was held at the Cenotaph led by King Charles, senior royal officials and political leaders.
Braverman, an increasingly outspoken right-winger, has done little to ease tensions, accusing police of being more sympathetic to so-called left-wing protests than others.
Support for the Palestinians is a long-standing policy of the British political left.
The government was also at odds with the Metropolitan Police this week, with ministers calling for the march to be banned, sparking concerns about political interference in operational matters.
Sunak said he would hold Met Police Commissioner Mark Rowley "accountable" for his decision to allow the protest.
Rowley, however, said the project did not meet the threshold required to seek a rare government order to stop it from proceeding.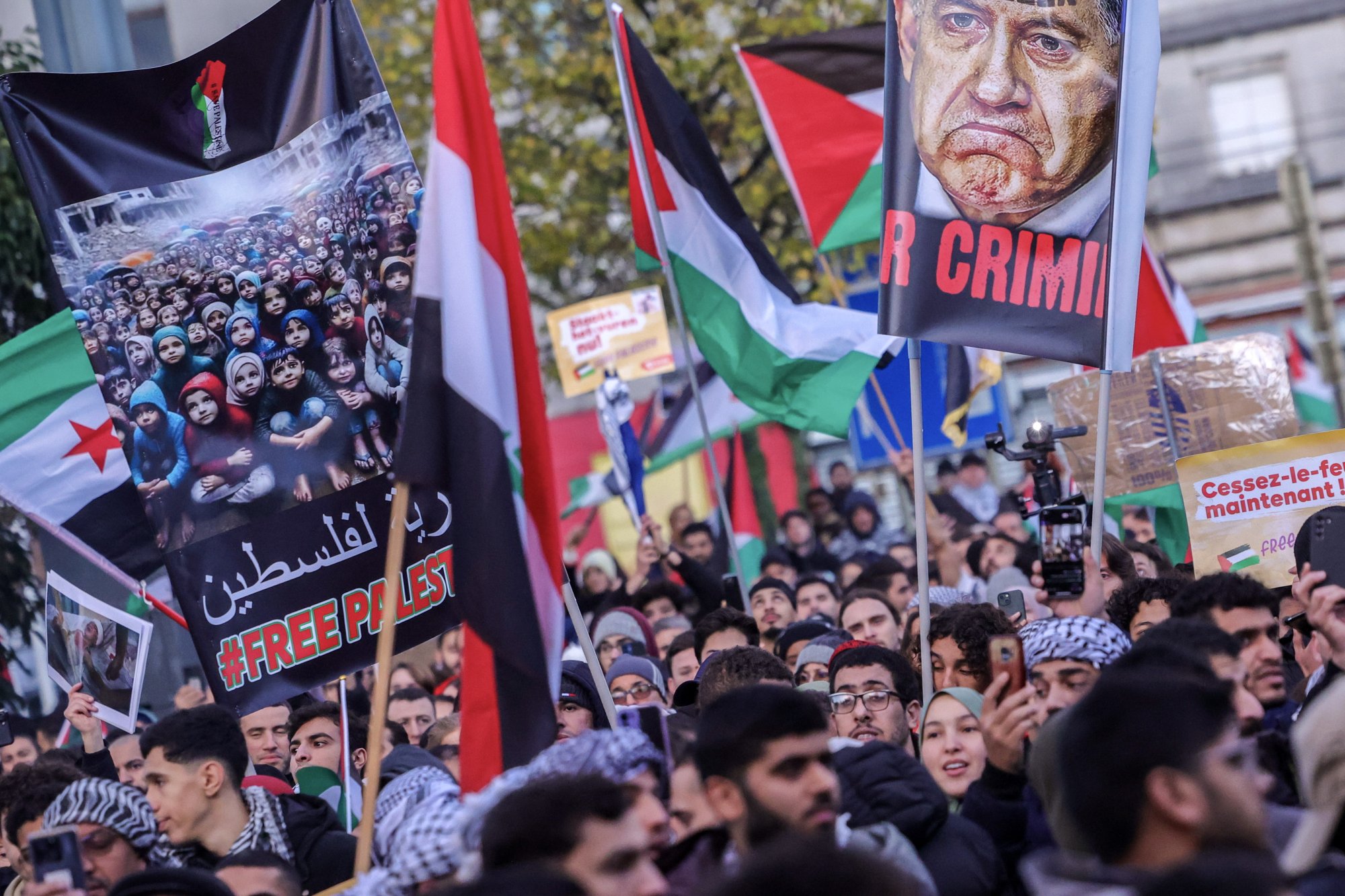 Also on Saturday, around 21,000 people took part in a pro-Palestinian rally in Brussels, police said, many of them chanting slogans such as "Free Palestine" and demanding a ceasefire in the Gaza Strip. as they marched peacefully through the city.
"What is happening now in Gaza is beyond devastating," said one protester, holding up a poster that read "Ceasefire now!" " in Dutch.
In Paris, France, several thousand protesters, including left-wing MPs, marched with Palestinian flags and banners to call for a ceasefire in Gaza.
Additional reporting from Reuters, Associated Press